Protocool is a full service Fort Lauderdale air conditioning company serving residents and business owners throughout the area. Our number one goal is to provide each of our customers with the best products, backed by the best service, all at the best prices. Your satisfaction is our top priority and we will do everything to ensure it.
At Protocool, we value our reputation and rely on referral and repeat business. We aim to impress you so much that you will want to share your experience with your friends, family, and everyone you meet. Our team is licensed, insured, and stays up-to-date on the latest air conditioning technology and procedures to keep your home or business cool all summer long.
Call us today at 754-333-6603 to schedule an estimate for Fort Lauderdale air conditioning services.
Photo Gallery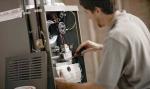 We need to replace and old Ruud unit. I know we need either rheem or Ruud because the air handler is in the attic and we've been told only these two brands would fit. We have an account with Ygrene and would like to use that for financing. We are ready to purchase once we find the right company. Our main concern is servicing. We want a company we can trust.

Maureen M